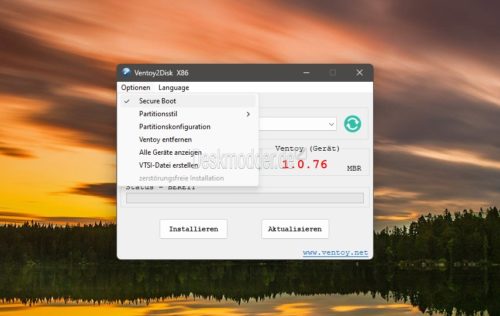 [Original 12.06.]: Briefly informed. There is an update to version 1.0.76 for Ventoy, the small tool for one or more ISOs on a stick or external hard drive. Starting with this release, Secure Boot is now enabled as the default setting upon installation.
Because without Secure Boot you cannot boot from the stick from a UEFI computer if it is activated. And today, most computers with UEFI are already set in the bios. I have to admit that on my first try I forgot exactly that and wondered why nothing worked. But there were other corrections as well.
Fixed issue with entering secure boot key with Super UEFIinSecureBoot Disk v3-3.
Automatic use of memdisk/grub2/wimboot mode if the ISO file name contains a special identifier.
Fixed an error booting Linux vdisk (.vtoy) files in legacy BIOS mode with F2 or ventoy_grub.cfg.
Supports EasyOS partition resizing at first boot.
Supports EasyOS 4.0 and Stratodesk NoTouch OS
A total of over 900 different ISOs are now supported.
[Update 19.06.22: Ventoy 1.0.77]
Without starting a new post, here are the changes for Ventoy 1.0.77:
Supports expansion of variables in auto install script.
Fixed UEFI memory allocation error on some computers.
Fixes the issue with installation media not being recognized when installing Clear Linux.
Fixes an error when booting daphile-21.01
Updating the languages.json
Information and Download:
Thanks to Nanoarchaeum and all for the tip.
[related_posts_by_tax taxonomies="post_tag"]