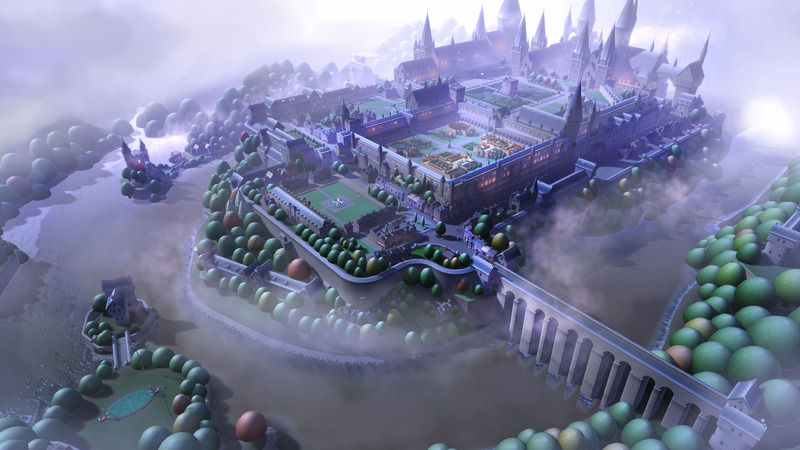 When I was little and people asked what I wanted to do later, I sometimes answered magician or spy. Today, Two Point Studios offers me to fulfill the dreams of other children by managing very specific universities. Welcome to Two Point Campus.
two in a row
The Two Point license had experienced a first episode with Two Point Hospital, a real tribute to the good old Theme Hospital. The main idea was to make a totally wacky simulation and management game. This first episode having met with success, it was logical to see the developers of Two Point Studios to embark on a sequel, with the theme of university, rather in an American model, and with always as much humor.
Two Point Campus therefore offers you a campaign, with several very different universities to discover and manage. A Tray mode Sand is available, which will get rid of some constraints of the campaign mode, but you will still need to earn some stars in the first universities of the campaign to unlock it. Each of the universities has its own themes and introduces you little by little to the concepts of the game. Thus, you have a campus which is dedicated to the education of future leaders while another is dedicated to the training of knights in armor and others magicians. As you can see, humor is always there.
1st year
But how does an early game go in Two Point Campus? First step, determine the training(s) you wish to organize in your establishment. This done, it's time to build classrooms and at least one auditorium. Hire at least a teacher and a maintenance agent and you have the bare minimum to start the year. Because you will have to quickly complete all that to satisfy the basic needs of your dear, not so blonde heads: install sanitary facilities (showers and toilets, it's crazy the hygiene problems in this game), student rooms where they will be able to rest, without forgetting to equip your corridors with food and drink distributors or to provide rest rooms for your teachers.
At this point, you have a functioning university that needs to be transformed into a performing university. Indeed, it is no longer a question here of solving specific problems, but of guiding students towards success at the end of the school year. This translates into the need to help them progress and improve their results course after course. For this, you will again need to provide dedicated rooms, such as a library to do your homework or rooms where you can organize private lessons, as long as you have teachers to assign there. Finally, as we learn best when we have fun, it will be necessary to plan distractions and even organize events throughout the year. And that's just the beginning.
Kudosh don't give gifts
Indeed, you will also have to ensure the Prestige of your establishment. Each room has its own level prestige, which is determined by several factors, from its size to the equipment you place inside. Each room has a minimum set of equipment without which you can't even build the room. But also special equipment that can be added later. Some of these special equipment are available as standard and just cost you money, others must be unlocked beforehand using a specific currency: Kudosh. A currency that you only earn in small amounts by completing in-game challenges or when leveling up on your campus.
This is where one of the difficulties of Two Point Campus appears. Each of your students has their own character and personality traits, and they regularly come to you with special requests. It's up to you to see if you're willing to grant this goth student the occult library he demands. These requests sometimes also require you to unlock new objects, with the same Kudosh as before, which forces you to juggle a little between the requests of the students and the prestige of your university. Finally, we must also take care of the relational aspect of things. Your students form bonds, become friends, fall in love, which leads to new demands that must also be managed.
real estate tetris
If you've ever played Two Point Hospital, you probably know that another part of your in-game activity is constantly rethinking the layout of the places. On Hospital, the idea was to minimize the path to be traveled for a patient. Campus takes this idea and applies it to the movement of your students. It's up to you to organize your campus as well as possible so that travel between the different rooms is as optimal as possible, especially since the game allows you to quickly develop your university in several different buildings. Fortunately, in this area, the interface is still as efficient as you can easily move a room, duplicate it to place a copy elsewhere or simply expand an existing room.
The management aspect of the game also benefits from an efficient interface. It is possible at any time to pause the game to make strategic decisions (or to completely reorganize your campus), to observe the progress and needs of your students or to monitor the actions of your employees a little. Which is very useful, because this test version saw some employees desert their posts for no apparent reason. I would formulate only one small complaint to the interface: I would have liked it to be clearer on the equipment useful for certain formations, there, it is a bit hidden and I discovered it completely by chance.
System, systems
Behind its humorous aspect, Two Point Campus hides a fairly deep simulation. The systems are numerous and interact with each other. Wanting to go too fast can lead to disaster. For example, your income is directly linked to the success of your students, which is itself linked to their happiness. Keeping everything under control to be able to open new courses (and therefore new students) or even train your employees for new tasks is a real balancing act. Being too thrifty is useless (your students will generally have lower grades), being too spendthrift either (you risk not being able to open new courses the following year). And things can get out of hand very quickly. I also regret that the game does not offer manual backups, but only an automatic backup, the frequency of which is certainly adjustable.
On the other hand, it is rather strange that certain systems are absent from the game. Thus, we note that the management of the personnel is much wiser than in Two Point Hospital, those accepting their salary with more philosophy. But it is above all the lack of management of the students' schedule that I regret. If it is possible to organize events at the level of the rooms, it is however impossible to modify anything in the schedule of your students. Which led me to some weird situations, like seeing half of my freshmen twiddling their thumbs for an entire semester when I had rooms and teachers waiting for them.
Conclusion
By applying the Hospital formula in the university environment, Two Point Studios has pulled off a great coup. Complete, both complex and accessible, Two Point Campus should easily find its audience among fans of management games. Let's not forget that it will also be available in the GamePass as soon as it is released, where it will have the opportunity to convince an audience who may be less fond of its indisputable qualities.
Test carried out on PC by Grim from a version provided by the publisher.
.
[related_posts_by_tax taxonomies="post_tag"]