[Update 14.10.2021]: ThisIsWin11 for Windows 11 is about to change its name. Therefore, here is the latest update again. The ExplorerPatcher has now been integrated in version 0.86.23.
This enables the Windows 10 taskbar to be reactivated under Windows 11. You can access the settings under System and then click once on Check at the bottom. All possible tweaks are already displayed.
But as always: First create a backup, then gradually test it. Let's be surprised by what name Belim will be presenting ThisIsWin11 to us with the next update. But no matter what the tool is called, the main thing is not the name, but that the tweaks work.
[2.August 2021] A redesign has now also been made so that it is similar to the Windows 11 view. We have now followed the development of ThisIsWin11 and you can now understand what has become of the small, inconspicuous tool.
With ThisIsWin11 you can now not only call up the new functions under Windows 11, but also set up your Windows 11 right away. Install apps and programs. Uninstall apps. Change the privacy settings and a few tweaks are included. I've now "folded" the rest. It's only interesting if you want to look at the development.
Update 07/30: expand info
[Update 30.07.]: Immediately afterwards a new version of ThisIsWin11 was integrated with an optimized successor from Privatezilla. Here you can now check the telemetry and if you want to correct all or some of them. The menu has also been redesigned a bit.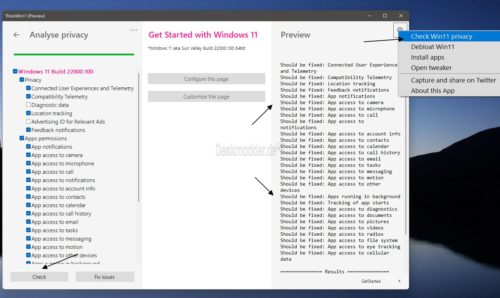 Update 07/29/2021: expand info
[Update 29.07.2021]: ThisIsWin11 not only shows you the functions under Windows 11. It is increasingly becoming an all-in-one tool for Windows 11. The tweaker, package manager and debloater are integrated. Do you already know about previous Belim tools?
After installing Windows 11, the Packager Manager can quickly install a few programs via Winget. You can import or export a pack list. I don't need to explain the tweaks that can be used in detail. There will certainly be new tweaks for Windows 11 little by little.
Removing apps is also a possibility that we already know from Windows 10. Anyone who uses these functions should always create a backup in advance. But I don't need to tell you that anymore, do I?
Original 07/22/2021 expand info
[Original 22.07.2021] ThisIsWin11 is a small tool for Windows 11 that shows you some new functions under Windows 11 and also gives you the option to start them from the tool. But it looks like Belim is now converting ThisIsWin11 into a tweak tool.
It is still running under Preview. But you can tell that Belim puts a lot of work into it. If you have started ThisIsWin11.exe, you can, for example, press "Demonstrate this Page" in the start menu and the start menu opens. Version 0.14 now also includes "This Page can be configured" and "This page can be optimized".
The first opens (if available) the settings for the respective area. With "Optimized" tweaks are gradually added which can then be used to make changes. Currently de- or installing apps, restoring the old file explorer or removing telemetry from third-party apps such as Ccleaner, Firefox etc. Everything on the right describes what exactly is being done.
An interesting tool to keep an eye on. There are sure to be further improvements.
Thanks for reading:
For more news, visit gamingsym.in/category/windows/
.