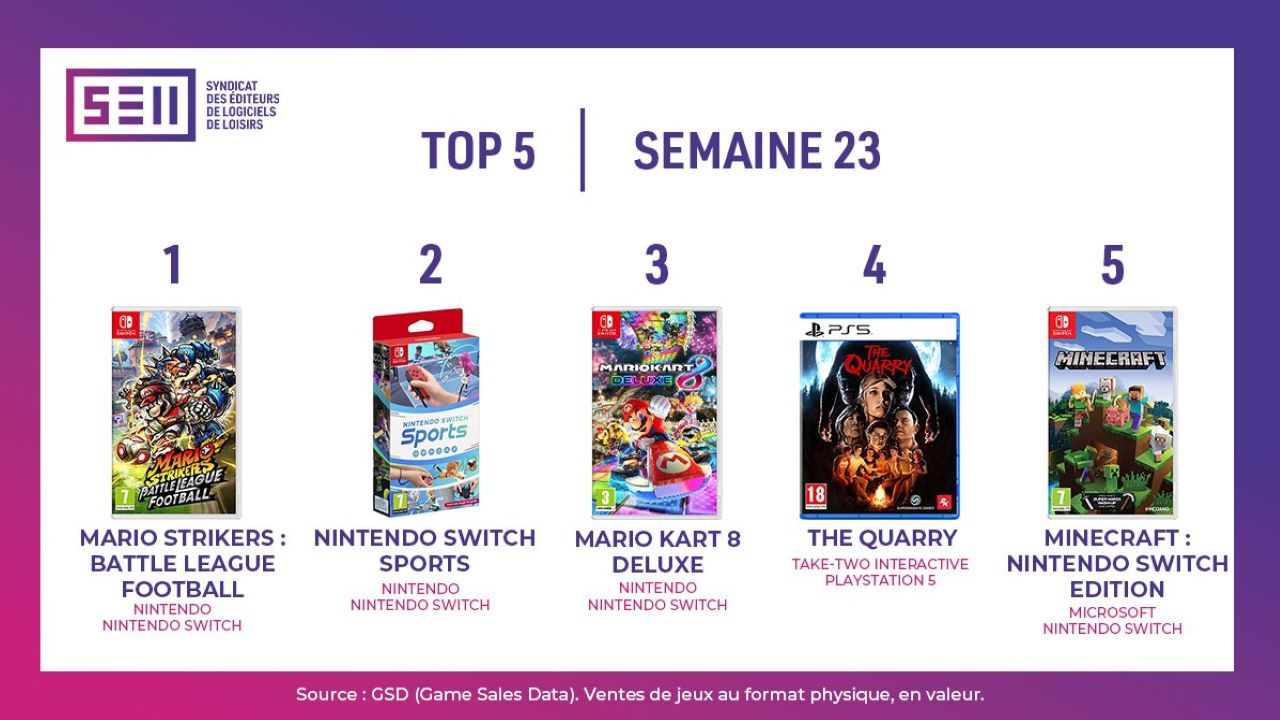 Summer opens its doors to us before the traditional traffic jam of autumn and winter, when the releases will follow one another at a good pace for the end of year celebrations. But before that, we need to take stock of the previous weeks with a focus on game sales in France.
As for several years, each week, the SELL or Syndicate of Leisure Software Publishers, publishes on its site the Top physical sales of video games in France. This week, we can discover the ranking for the week 23 of 2022, namely from June 6 to 12.
What are the best-selling video games for Week 23?
Top 5 video game sales in 2022 – Week 23:
Mario Strikers: Battle League Football (Nintendo Switch)
Nintendo Switch Sports (Nintendo Switch)
Mario Kart 8 Deluxe (Nintendo Switch)
The Quarry (PlayStation 5)
Minecraft: Nintendo Switch Edition (Nintendo Switch)
Major changes this week for our ranking with the surprise arrival of The Quarry, which is placed directly in 4th position and which sits at the top of all home consoles (excluding Nintendo Switch) in the individual rankings below and for which we have offered you a complete test. We also note the strength of the Mario licenses with the presence in first place of Mario Strikers: Battle League Footballwhich our test gave it a good rating and which promises you some great games.
The top 3 by platform
Each week, the SELL gives us rankings for each separate platform. Great news for The Quarry which manages to slip to the top of the rankings of almost all platforms.
PS5
The Quarry
Horizon: Forbidden West
Gran Turismo 7
PS4
The Quarry
Sniper Elite 5
Gran Turismo 7
Xbox Series X
The Quarry
Halo Infinite
Forza Horizon 5
XboxOne
The Quarry
Tour de France 2022
GTA V: Premium Edition
nintendo-switch
Mario Strikers: Battle League Football
Nintendo Switch Sports
Mario Kart 8 Deluxe
computer
The Sims 4: Standard Edition
Farming Simulator 22
Pro Cycling Manager 2022
As of next week, the ranking of physical sales of video games in France for the week 24 i.e. from June 13 to 19, 2022 will be unveiled and we will not fail to share it with you.