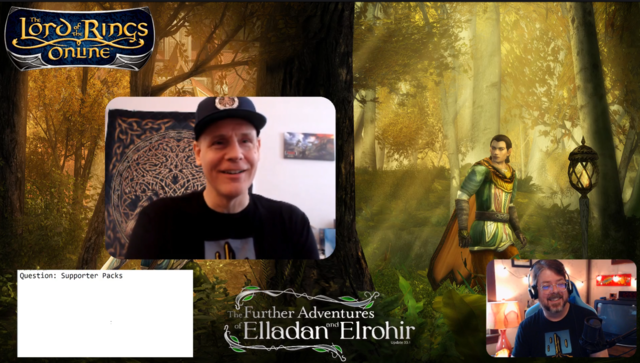 We can say that Severlin had the worst microphone in history – This summary is not an exact verbatim of this exchange which you can find on Twitch. There may be some interpretations (NdK: note from Kaels)
Severlin's answer question:
We are working on a big update for the fall. There will be a few new systems put in place.

There should be a big announcement soon. We will have communication around GamesCom (Cologne Germany) and we will talk to our German players because we will be there. (NdK: a first for an age)

So there will be an update in the fall of the size of the Three Peaks War towards the fall. It will be lower content level.

More generally, we are in a period of transition because we have hired new people and we are in train to train them.
We currently have a lot of mid-level content and we're going to have to deal with it, but we can't stay in that space where your main character (level 140) doesn't belong anymore. We will provide solutions for this in a couple of updates.
In the next updates we will tell a new arc, we will bring a instance 6 players – can be played at max level and we will (after the fall update) focus on high level content.

A new system will appear which will work in particular on missions and which will make some of our content more difficult. This will be via a stone to be activated in these instances, missions and skirmishes which will allow the difficulty to be modified – at the beginning in any case the content concerned will be limited. Among other things, this will allow you to earn tracery.
This "Delving" system (NdK if I understand correctly) will be applied to the new instance 6, to the missions, but also to the new skirmishes that will be added.

For the future, this system will be applied to future content, in particular for the "End-Game" with other six-player instances.

Typically when you get to certain places, right now it's in missions – that's the perfect environment for us to test it out – you can activate a Delving Stone and the content will get harder.

This will apply to missions, the new skirmish and the old ones as well. In the longer term this should allow us to spice up a little more content.

It will bring skirmishes up to date even for our HL players.
PvMP:
The work on the pvp will continue, Orion will continue to work on it, he likes it, he appreciates exchanging with the community on the subject.
There are still changes to come on the balancing, it's complicated because in the way PvP is built you have to make a lot of small changes on many aspects to achieve a result. Orion continues its work, it will happen "live" probably after our next big update. There will be test sessions on Bullroarer.
The lag
Here too the work continues.
Raids also influence the the G in the way the damage, the effects are redistributed, the space used is a bit like a sounding board which diffuses the lag on this aspect (NdK: this part is completely interpreted).
Our engineers are currently working on for example the quest system, initially the game system was not created to contain tens of thousands of quests.
We are currently reviewing this aspect, our database cleaning tool will also be reviewed in order to be more efficient, this aspect must also be made more efficient.
Our servers will also be updated with more modern systems, this is a long term project.
The "Echo of Angmar" private server
(NdK private server allowing to play the game as it was until update 11)
I admire the enthusiasm of this team who wants to set up a private server. We have communicated on this subject on the forum. We need to protect the work that we have been doing for years on the Lord of the Rings Onlineit is our heritage.
Is it possible to have larger totes?
We can watch. I confess that I was not prepared to answer questions about totes. It's possible, I'll ask.
Is golf going to become a new hobby?
We want to add new hobbies and have been for a long time, we just have to prioritize what we can do, we would like to add some, but I have nothing to announce at the moment.
Bombadil pvp server
(Question from Electraa FR player)
In the short term in the fall we want to create overflow servers with free transfers both to and from them. This would make it possible to go from a very populated server to a server where there is less lag.
This will be our priority when it comes to new servers.
I think the Ettenmoors will be the best refuge for our PvPMP players for now.
The great battles
They were created to tell a specific story at the time of Helm's Deep. There are no plans to revisit or add to them in the short term.
Waiters :
We have improvements on DDO that we want to bring to LOTROour engineers have to be able to transpose it.
Again, on a server where many raids are played, there will be a halo effect or the lag will spread to the rest of the world. It's quite specific to this 12-player game mode, it's less the case on 6-player instances, we're working on this issue.
That's why we have to be careful in our development of raids.
We have made progress on 64 bit servers, we were ready but an issue on chat not working on these servers so we need to continue our efforts. We need to move all of our old programs to a 64-bit system which will allow more information to be processed and on our servers and better use of memory.
In the fall, we may open free transfers between servers that are particularly populated and affected by lag to other more fluid ones.
The graphics
As we announced we are looking to update our in-game code and textures, which are a bit old and need updating. This type of project takes time, you have to free up the necessary resources, it's a whole process, I hope we can talk about it a little later.
New producer
Raninia has left the company, our efforts at the moment are to hire a leader happy. The position of producer will be opened next.
We will try to keep the publication rate of the letter from the producer to 4 months.
Multi-factor authentication
We have made progress, I don't have a date to announce yet, but it's something that should happen.
Any updates planned to the Legendary Item reward system?
New rewards will be added with the new season (mid August).
Changes to the brotherhoods?
We wanted to do it this fall but it should happen next year.
There will be a new raid next year.
Regarding the characters of new customizations hair, beards etc…
We are working on it, currently we are on Humans, and we want you to be able to differentiate your characters.
There is no date to announce at this time. It could happen in 2023 but it won't affect all races at the same time. Every change has to be done race by race it's not something we can create and duplicate across all races. It is a long term project.
Ray tracing in LOTRO?
At the moment we need to improve our performance issues because this system is resource intensive. What's more, not all our players will be able to benefit from it because it requires specific equipment. It's not topical.
Will the legendary server difficulty system be coming to classic servers?
Yes eventually, this will be applied to classic servers.
Transfer from Closed Worlds:
It should be possible this year. (Note: Estel <3)
The VIP:
We always want the VIP to remain competitive, and add value to this subscription for example that certain things are cheaper for the VIPs (NdK this is already done on DDO, paid updates are cheaper).
European Servers
I don't have the resources to bring the servers to Europe. I know you might have a little trouble hearing it, but most of the lag isn't on your end, it's on ours.
(NdK remember the time of the transition actually there was no big difference it is over time that it became more complicated)
The River Hobbit
It will happen next year. (NdK we have already heard this sentence)
Support packages:
These packs are a way to support SSG and on the other hand allow us to make more things free in game.
We will have more packs with new rewards in the future.
Where are we going to go in the future?
We will make an announcement around DevCom (August 24-28)
.