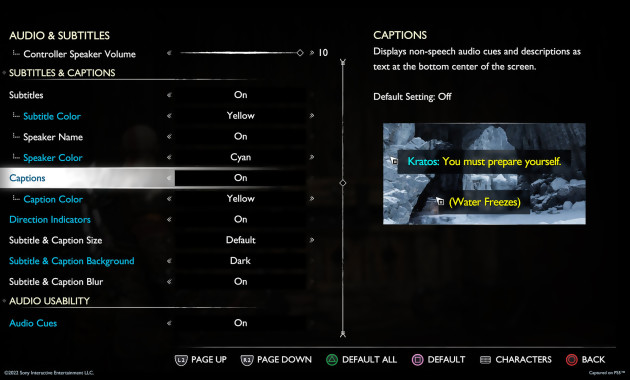 If Sony Interactive Entertainment is still undecided to reveal the release date of God of War Ragnarök on PS5, as part of the world accessibility awareness day,
Santa Monica Studio just posted a PlayStation Blog post
dedicated to the 60 accessibility features that will be present in the game."
Not only have we completely revised our interface to offer more flexibility and readability, but
we've also completely redesigned key reassignments and added more customization options to our combat and interaction systemsexplains Mila Pavlin who is in charge of the user experience. We kept all the accessibility features from 2018's God of War and decided to expand them by offering more than 60 options to adapt the gameplay to your needs or your style."

A little further on, he adds:
We are committed to improving accessibility and customization for all of our players. We look forward to giving you more details on the categories of our accessibility features, such as combat/targeting aids, puzzle/mini-game aids, heads-up display changes, the camera, automatic object pick-up and more. Thank you for all the support you have given to our accessibility consultants. A big thank you also to the entire community concerned with accessibility for their comments which will allow us to make God of War Ragnarök the most accessible God of War ever created.
"
God of War (2018) PC Features – Added to God of War Ragnarök
For God of War (2018) on PC, we decided to improve the features already present in the game originally released on PlayStation. We're thrilled to be able to bring these features to God of War Ragnarök on PS4 and PS5 as well:
Stroke / Auto Stroke : you run when you hold the joystick and you stop when you release it. When Autorun is enabled, you can begin running by briefly moving the Movement Stick in a direction. You can configure the delay it takes to activate Autorun.
Persistent dot (crosshairs always on) : If you need more cues to reduce motion sickness or like to know where the middle of the screen is, you can enable a center spot that comes in three sizes and seven colors.
Aiming style : You can choose to maintain or activate/deactivate the aiming posture.
blocking style : You can choose to maintain or activate/deactivate the shield posture.
New in God of War Ragnarök
Subtitle improvements
We've worked hard on improving our subtitle system to provide even more information and customization possibilities.
Subtitle size : we have increased the minimum text size and added new settings. You will also find an extra-large (XL) size increasing the readability of the subtitles. In addition, we have created a larger text area that is more in line with subtitle standards for movies and series.
Subtitle colors : You can individually change the colors of speaker names, caption body and on-screen text. You will have the choice between seven different colors.
Names of speakers (option already present in 2018) : as in God of War (2018), you can show or hide the name of the speakers. You can adjust the size of the names independently of the interface text size.
Subtitles : By adding descriptions of sound effects, we offer new ways to understand the sounds of the game. We have added subtitles for gameplay phases and cutscenes in order to reproduce the sound environment of the game more accurately. You can also enable subtitles for critical gameplay information, which should help you solve puzzles and understand the narration.
Subtitle background blur : We have included options to apply a blur effect to the background of subtitles to make them more readable during complex scenes.
Subtitles background (option already present in 2018) : In addition to the blur effect, we have added options to darken the background of the subtitles to improve readability on snow. For the high contrast background, there are several opacity settings to choose from.
direction indicator : Essential gameplay sounds now have a direction indicator to help you locate where they are coming from. To help you solve puzzles with sound clues, this indicator will guide you to the source of an important sound.
Text / icon size
The feature you requested from us for God of War (2018) is back with improvements! You asked for a comfortable reading experience from a couch, and we listened. With a redesigned and responsive interface, as well as a larger and more responsive minimum text size, reading text on screen has never been easier.
Controller button reassignment
We've revamped our controller button reassignment system to allow you to customize your buttons in God of War Ragnarök. You'll have access to a range of preset layouts as well as support for custom controller key rebinding. You can modify individual keys and, for certain complex actions, choose alternative configurations from a predefined list.
We're giving you several ways to customize your experience for certain actions that require multiple key presses, including touchpad shortcuts to activate Sparta's Rage, navigation aid, and quick turn around.
High contrast mode
Our new high-contrast color mode lets you apply color to in-game objects like targets, enemies, and other characters, as well as a variety of traditional objects. When enabled, this option applies a layer of color to the characters, making them stand out more from the background. You can also desaturate the background to further increase the contrast. This mode can also make routes, loot, and special effects more visible.
Customizing High Contrast Activation : You have the choice between Disabled, Enabled and Always enabled options for gameplay only (this option excludes cinematics). For added convenience, high contrast mode can be turned on or off with a simple swipe on the touchpad. This mode automatically turns off when you are in the settings or character menu.
Color customization in high contrast mode : Select a color palette that matches your playstyle and adjust the individual colors of characters, enemies, and items.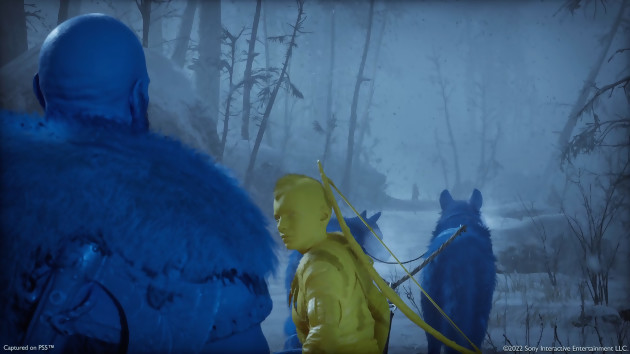 Customizing the background in high contrast mode : You can separately select halftone or darkened contrast levels for the background.
Help with navigation : New to God of War, this camera navigation system will allow you to direct your view towards the compass lens. While out of combat, press the Navigation Aid key to orient your view in the direction of the next story objective.
Travel assistance : Actions like crossing ditches or obstacles, or even hiding, can be automated depending on the direction you press.
Support + : Helps you with interaction-based movement, such as climbing, crouching, or traversing a narrow passage.
Audio cues : We have associated an audio cue with each of the on-screen interaction prompts. So when you use this feature, you will hear if an interact icon is nearby and also know when you need to press a key.
Audio cues are complemented by additional in-combat cues, including areas of unblockable attacks, aiming, and weapon switching. You can adjust the volume of audio cues separately from other volume sliders for convenience.
God of War Ragnarök First Trailer – Audio Description Version
To celebrate Global Accessibility Awareness Day, we also wanted to bring you an audio-described version of the first God of War Ragnarök trailer that was released last year!*
* Audio description not captured in game.