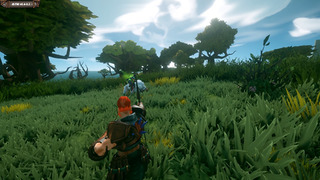 The Profane MMORPG does not impose binding shackles on the progression of its character: the style of play will depend in particular on the choice of weapons. The more a specific weapon is used, the more effectively the character will use it.
Almost every week, the Insane studio teams publish a note evoking a section of gameplay from Profane or reporting on the progress of its development. The studio is currently preparing the launch of the alpha of the MMORPG (after a few pre-alpha phases) and the tests will notably be an opportunity to discover the basics of the combat system.
As we know, Profane claims a sandbox approach and action fights (still far from being finalized). To combine these two approaches, Profane does not include playable classes so as not to impose strict shackles on the players, but the choice of weapons makes it possible to define the style of play of its hero.
According to Insane, each Profane weapon family should have its own playstyle. Each weapon also has specific attributes, determining attack speed, damage level, range, etc., all with animations assigned to it. own and special effects – the developer evokes for example a bow increasing the chances of inflicting critical hits or spears having a chance to pierce all the defenses of the target.
Each weapon has its own level of effectiveness and increasing its level of effectiveness with a specific weapon unlocks abilities related to the weapon in question (passive or active abilities, or even abilities allowing synergies with elementary skills of Profane – the character can have affinities with certain elements).
The first weapons with their abilities will be available in the alpha and the first testers will be invited to give their feedback to the development team. Eventually, the developer also plans the possibility of changing arsenal with one click, even during combat (for example, starting a fight with a two-handed ax and continuing it with two daggers, or using a bow first). then a melee weapon). Initially, the mechanism will not be functional during the alpha (the change will have to be made manually), but it is planned to be added as development progresses.
.