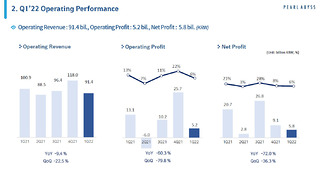 In the first quarter of 2022, Pearl Abyss recorded mixed results. Its next titles (DokeV and Crimson Desert) are long overdue and for the first time, the developer is downsizing.
Like every quarter, the group Pearl Abyss publish their accounts and those of first quarter of 2022 show mixed results. In numerical terms, the South Korean recorded a turnover of 91.4 billion won (68.55 million euros), down -9.4% in one year and -22.5% compared to compared to the previous quarter. Same result for net income: Pearl Abyss made a profit of 5.8 billion won (4.35 million euros), but down 36.3% compared to the previous quarter and 72% in a year.
The figures can be explained quite classically: the license Black Desert is the main source of revenue for the studio and the action MMO is running out of steam obviously after seven years of operation – apart from Black Desert Mobile which is to be launched in China soon, the game is already available in most regions of the world and on most platforms, and therefore no longer has significant growth levers except for its content updates.
At the same time, the financial results ofEve Online are stable (for the record, Pearl Abyss is the parent company of the developer CCP Games) and renew the player population of the Space Opera is obviously not easy.
The main question raised by these quarterly accounts relates to the workforce of Pearl Abyss. For a long time, the South Korean studio has recorded mixed results due to its investments: Pearl Abyss has always recruited massively to strengthen the development teams of its next titles – in particular DokeV (scheduled for release this year) and Crimson Desert (postponed to a later date still undetermined). For the first time in a long time, the studio's results are down but the number of employees of Pearl Abyss also decreases, going from 1,572 employees at the end of 2021 to 1,485 today – the studio has separated from around twenty developers and around 70 administrative staff. A trend that suggests savings measures (and not investments as before). We imagine that the studio will be keen to quickly launch its next games in order to find a second wind financially.
.