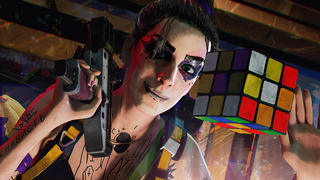 Creative Assembly (Total War) announces Hyenas, a Hero Shooter sci-fi: five teams of three players compete in weightless environments to loot relics from the 1980s. The alpha is coming.
If we mainly know CreativeAssembly for its strategy games (Total War), the British developer also signs action games. After Alien: Isolation, the studio announces the development of Hyenasa team-based sci-fi shooter.
Hyenas takes place in a future where the most fortunate humans have abandoned an almost unlivable Earth and taken refuge on Mars. Nostalgic for the Earth, they collect and buy rare relics of pop culture, such as Panini sticker albums, Mega Drive consoles or PEZ dispensers, stored on shopping mall vessels ("freighters").
The "Hyenas", mercenaries played by the players, nevertheless take malicious pleasure in venturing on these freighters to steal (recover) these goods. In some portions of the freighters, however, you will have to reckon with the defenses of the freighters (especially clone guards), move around in weightlessness and several teams of Hyenas are fighting over the rarest relics. Each match pits five teams of three players against each other (each "Hyena" is a unique hero with his equipment and his own strengths and weaknesses): it will be necessary to both face the other teams, by arms or by trickery, find the loot coveted and above all succeed in extracting it from the battlefield to win.
The release of Hyenas is scheduled for next year on PC and PlayStation and Xbox consoles, but already, Creative Assembly intends to organize an alpha to collect the opinion of the players very early on – we know the shooter sector is very competitive and the opinion of the players can prove to be invaluable in making room for it. For the curious, registrations are open on an official website available here.
.