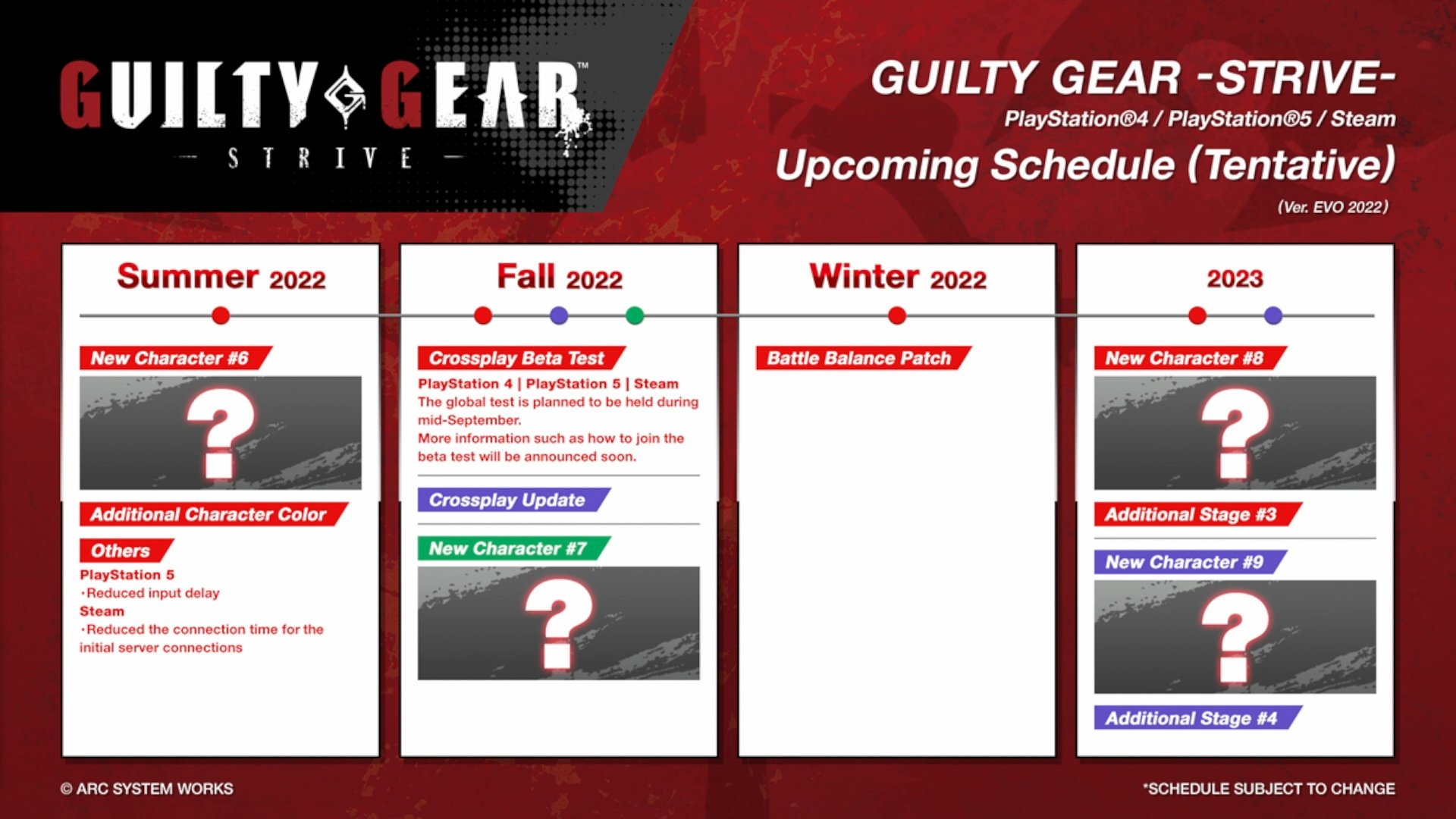 Guilty Gear Strive should hold a good place during this EVO 2022. This is the game that attracted the most participants for its tournament and it also had the honor of a conference in the presence of the developers which served to launch the first day on the main stream of the event.
Guilty Gear Strive kicks off its weekend
So let's be honest, Arc System Works remained extremely vague about the very content of the Season Pass for season 2. However, by announcing that a character will be released this summer, we suspect that a trailer will drop this weekend. Why not at PlayStation, which will host the studio tonight from 1 a.m. to 3 a.m. Or before the finals that will close this edition of the EVO.
In the meantime, we still learn that crossplay will take a little longer to arrive than expected. Announced for this summer, the function will wait until mid-September for its beta test and then this fall for its real in-game implementation. similar to those of the PS4 Pro.
We already knew that the second Season Pass would bring four additional characters and failing to know their identity, we had less of a first idea of ​​their release rate. The first of them will arrive this summer then the next one in autumn and the last two will wait until 2023. It is assumed that it should rather be the first half of the year to move on to the possible season 3 during the summer.
Summer 2022
Additional character 6
Additional colors for characters
Others

PlayStation 5 – Reduced input delay
PC – Reduced server connection time when launching the game
Fall 2022
Crossplay beta test on all platforms (mid-September)
Added crossplay
Additional character 7
Winter 2022
2023
Additional Character 8
Additional stage 3
Additional Character 9
Additional stage 4
Guilty Gear Strive is available on PlayStation 4, PlayStation 5 and PC. We'll probably meet tonight and/or Sunday to Monday for more news about the game.