Like last year, free gifts will be available in Fortnite during the Winter Festival! Find out which gifts to open every day at Christmas 2021.
The Winter Festival is back in Fortnite in 2021! Like every year, it will be possible to discover Christmas surprises, including winter challenges, but also daily gifts. Indeed, it will be possible to open one gift per day in the game, generally containing cosmetics.
Most how to open these free gifts, and get the various free skins, back accessories or emotes? It is by going to the winter chalet that you will have access to all these surprises!
How to open free gifts in Fortnite on Christmas 2021?
the chalet hivernal has just been added to the game, and if you visit it between the December 16 and January 6, 2022, you can open one gift per day in Fortnite! If you miss a gift day, don't panic, you can open it another day. Just make sure to get to the Winter Cabin by January 6 to collect all of the free giveaways from Epic Games.
To get to this chalet, you just have to click on ice cube icon at the top right when you are on the home page of the game. Then click on " Enter »To access the interior of the chalet, where all the gifts are. Each day, you can choose the gift you want to open, and discover the reward offered to you!
List of winter 2021 gifts in Fortnite
Check out the full list of Winter 2021 freebies in Fortnite. The names of the gifts are translated from the English version and may differ from the French names in the game when the gifts become available.
Krisabelle outfit
Sentinel Glider
FFrosty back accessory
Emoticon "It's perfect! "
The Snow Shovel Pickaxe
Music "Gift in the Mountains"
"Glitter" coating
"Winter Bomb" tag
Glider "Surf Regard Doré"
Snowflake banner icon
Contrail « Arc Aural »
Look Ahead! Loading Screen "
"Knitting" emote
"Wool" coating
Christmas hatchet harvesting tools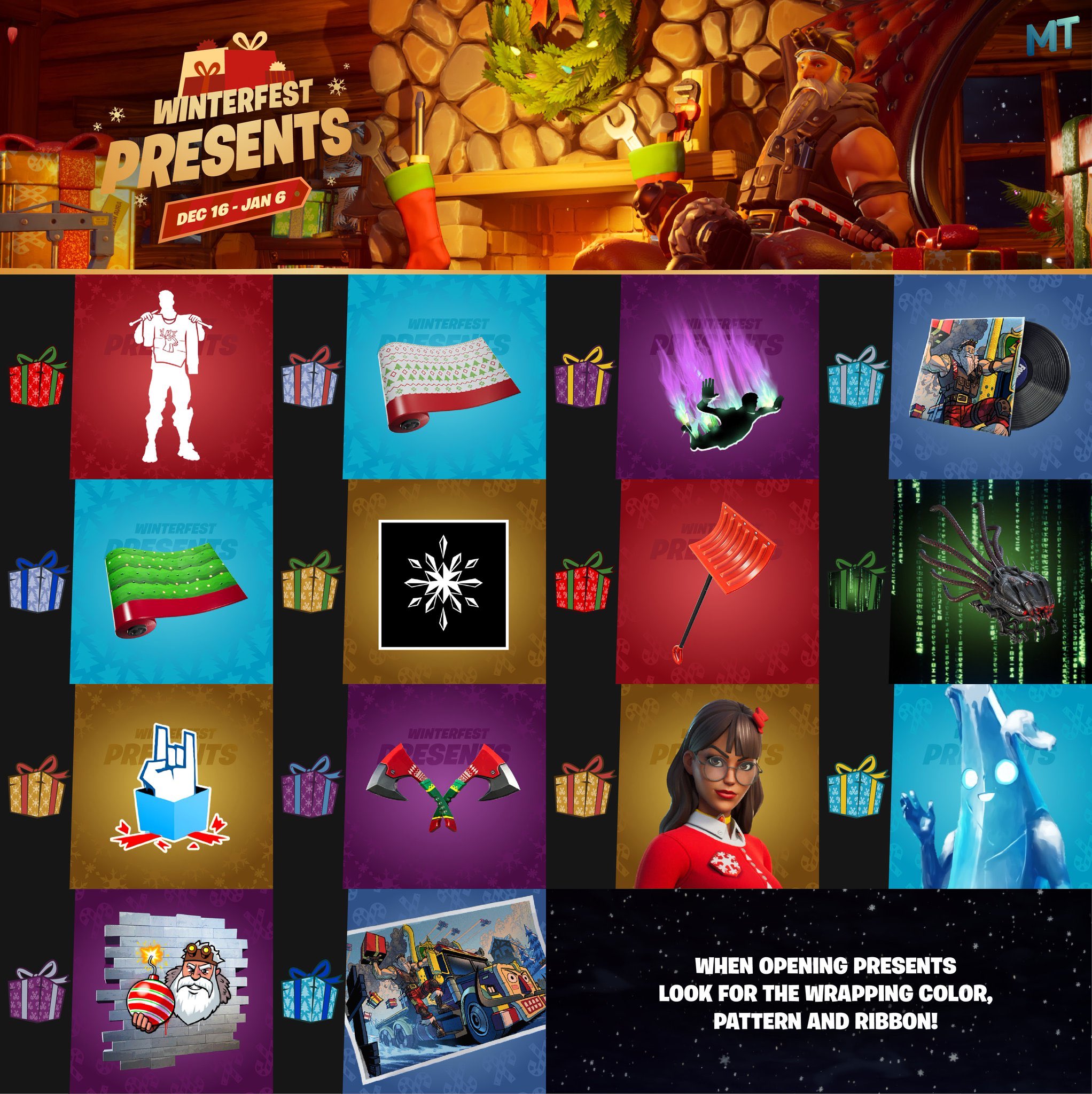 List of Winter 2021 Giveaways in Fortnite (Credits: iFireMonkey)