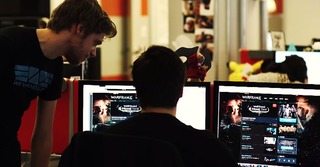 Digital Extremes is known for having signed Warframe, launched in 2013. Is the Canadian studio working on a sequel to its action game? In any case, it has just registered the Soulframe brand, designating a video game operated online.
The Canadian Developer Digital Extremes made himself known by signing the game Warframelaunched in 2013. The online action game is still regularly updated and has been able to renew itself with expansions, but Digital Extremes could also have new projects in its boxes.
Vigilant players of Reddit have indeed spotted a Deposit mark registered by the studio, with the European Trademark and Patent Office. The Canadian has thus registered the trademark "Soulframe" referenced in classes 9 and 41 – corresponding respectively to the categories "game software and video games on computer or mobile platforms" and to "game services distributed online via a computer network". In other words, the brand soul frame would aim to protect the name of an online game intended to be regularly updated.
At this stage, Digital Extremes does not release any details about its plans (and the brand may also never be exploited), but the proximity of the term soul frame with Warframe could suggest that the studio is working on a sequel to its sci-fi action game, for example.
.