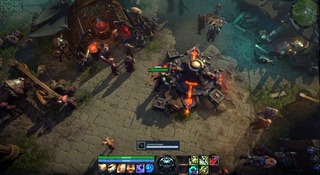 Following the invasion of Ukraine by Russia, the Artificial Core studio announced last March to relocate its studio from Kyiv. After two months of silence, the developer announces to remove the Russian sections from its community supports.
Most members of the MMORPG development team corepunk are Ukrainians and one of the studio's main offices is based in Kyiv. We know the current context in the region and last March, following the invasion of Ukraine by Russia, the studio Artificial Core published a note on its official website indicating that the development of the MMORPG was obviously turned upside down: the studio offices were relocated to Athens, some of the members of the development team left Ukraine (to settle in Greece, the Netherlands, Poland, in Romania, Austria or Norway), but logically, the context does not lend itself to the continued development of the game and from now on, Ukrainians are likely to be mobilized to join the country's armed forces.
After more than two months of silence, the official website of Corepunk comes alive again: the teams of Artificial Core announce having disabled the Russian-language sections of the official site and forums, as well as the game's Discord server.
"(…) For a long time, we have put a lot of effort into our communication in the Russian language and in return, our community has supported us. The love of the game has united us.
Then the war. The damage and pain caused by war is profound. A majority of Artificial Core employees are Ukrainians and we cannot ignore current events. We have decided to suspend our Russian language services. The site, forums and Discord channels in Russian are disabled. Thank you for your understanding and support. »
We can obviously understand the positioning of the studio, especially since some users of these Russian versions of the site clearly showed a certain hostility towards the development team, identified as being from Ukraine – loudly indicating the lack of interest they now had in Corepunk, their impatience with the launch of the beta following the studio's delays or to point out that they no longer recognized themselves in the game's community (and incidentally, the Russian players who echo of the announcement censor the two mentions of the "war" in Ukraine).
It's hard to interpret the deeper motivations behind Artificial Core's message – the Russian sections closing can be explained by not being able to moderate them effectively at this time, by the desire to remember players' memories, or even by possible preparations for a resumption of development or the launch of a beta test… In the absence of details, we will retain at least here that at least part of the development team is still hard at work .
.