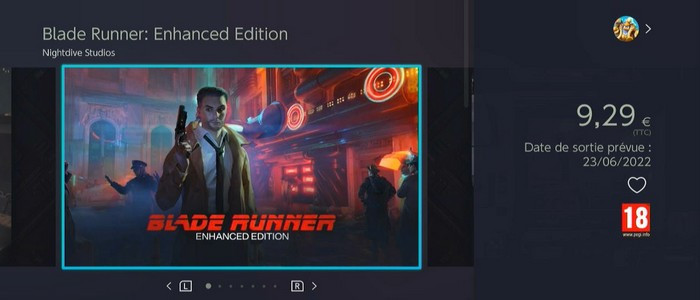 Adapted from the novel by Philip K. Dick, "Do androids dream of electric sheep? blade runner by Ridley Scott is a cinema classic considered as a cult work in the same way as the original book (despite their differences…) The two works have since inspired many fictions, comics and even video games including the excellent point and click blade runner developped by Westwood Studios and released on PC in 1997. If you don't know this title from the CD-ROM era, rejoice because it returns to the eShop next week in an "Enhanced Edition" that we were promised final. Very good news, especially since the project had given no sign of life. since 2020 and it seemed to be off to a bad start, the game's original resources having been lost (see here.) Obviously, the problems have been resolved… While waiting to learn more, find a presentation of the game, images and the eShop sheet of the title.
Blade Runner: Enhanced Edition will be available June 23, 2022 on the eShop at the price of 9.29€. The weight of the game is 3.7 GB.
LOS ANGELES, NOVEMBER 2019




Westwood Studios, the company that brought the real-time component to strategy games with Command & Conquer, is doing it again with adventure games by tackling the sci-fi classic: Blade Runner.




Armed with your investigative skills and the tools inherent in the Blade Runner, you'll be immersed in a world teeming with life through groundbreaking visual and lighting effects. Your survival skills will be put to the test in the richest gaming environment ever.




Immerse yourself in the dark and sordid world of Los Angeles 2019, where you will be both hunter and prey.

The revolutionary real-time story structure creates a unique gameplay experience with every playthrough.

Interact with over 70 animated characters using motion capture, all with artificial intelligence (AI) and their own routines.

Gorgeous graphics, plus atmospheric smoke, mist, fire, and rain that affect your character in real time

Hollywood talent from the original film, including Sean Young, James Hong, Joe Turkel, Brian James and William Sanderson.

A rich, ambient, multi-track audio environment that creates an immersive gaming experience.

Includes specially recreated tracks from the original Blade Runner soundtrack.

The game and cutscenes are animated continuously, full screen and in high resolution, with millions of colors emulated.

Cinematic in-game camera movements for a more immersive Blade Runner experience

Step into the shoes of a Blade Runner using the ESPER Photo Analysis Machine, administering the Voigt-Kampff Replicant Detection Test, piloting a Police Spinner and analyzing clues with your assistant knowledge integration, the KIA system.

Revolutionary real-time lighting, with directional, color, volumetric, dim and animated effects.




Blade Runner: Enhanced Edition is a faithful remake of a classic adventure game that features:




Reconstruction and improved quality of Westwood's original VQA videos

An increase in the frame rate of cinematics from 15 to 60 frames per second

A modern display in high definition

Improved KIA system and hints interface

Better support for subtitles

Modern gamepad support

SMAA to limit aliasing

Anisotropic filtering of textures
.