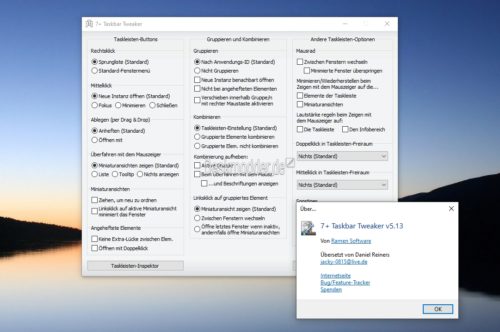 There is a new final version 5.13 of the 7+ Taskbar Tweaker. As a highlight, this version also supports Windows Server 2022 (Build 20348). As well as Windows 11 22H2 (*with the old taskbar). For the Windows 11 users among you, "RaMMicHael" has added some information.
Other improvements:
The no_width_limit advanced option has been defused to improve compatibility with third-party tools.
Fixed a rare crash on initialization.
And here is the information about Windows 11:
The 7+ Taskbar Tweaker could already be used in connection with the ExplorerPatcher in October 2021. The 7+ Taskbar Tweaker alone doesn't support Windows 11 and probably won't. But some tweaks are considered on the page Windhawk mods offered. You can take a look around there.
Information and Download:
[related_posts_by_tax taxonomies="post_tag"]